CPMCA is committed to consistently developing a broad and diverse curriculum for our membership. This curriculum of online and face-to-face classes will train you in key professional areas. You'll elevate your current job performance, build on your skills, and even be exposed to new and different areas you might not have previously considered.
The January – June 2024 Training Catalog is now available! Check out the catalog for much more!  In building our curriculum, we target various levels of personnel with varying degrees of work experience, so there's something for everyone!  
Be on the lookout for class announcements 4-weeks prior to training.  If you are not currently receiving invitations to courses via email, please contact Jessica Diaz (jessica@cpmca.org) to be added to the distribution list.  Registration is available one month prior to class date – view the Course Training Schedule for more details.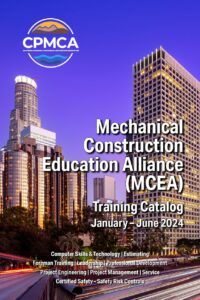 Our course catalogs feature training courses in 6-month increments.  This selection of classes was thoughtfully chosen to compliment the skill set of an already proficient contractor membership. We recognize the importance of providing industry-focused education to ensure the success of our contractors and their employees. These classes, as well as all previous CPMCA educational programs, will count towards credit in an accreditation program.
We welcome any suggestion you may have regarding improvements to the program.  Your involvement is key to its success.  Please contact Jessica Diaz, Director of Education at 818-330-5095 or jessica@cpmca.org with your feedback and/or questions about our program.
Glance at past classes in our educational line-up: