Local 78 Business Manager Shares Career Path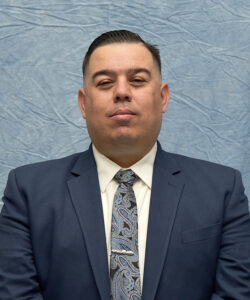 When Jeremy Diaz started to consider his career, he did what many young people felt they must do after high school–he went to college. 
"I got my associate's degree, and then realized that what I learned wasn't really a career," he said. "It was more of a hobby. At that point, I didn't know what to do."
Then Diaz recalled what he saw every day growing up. He remembered the hard work his father put into his job as a plumber in the union. 
"He had been talking about the benefits and how good the job was, and all of these were important to me," he said.
See, at that time, Diaz and his wife had a young child. He wanted to provide a stable environment and find a job where he could really excel. 
"I put my heart and my brain into it. Today, I see that moment as taking a leap of faith," he added. "Thankfully, it worked out."
Diaz's story is just one example of the positive outcome that happens when we provide the next generation with access and information about what life is like in the union. 
This example is also backed by research. 
Economists from Harvard University, Wellesley College and the Center for American Progress found that children of union members earn higher wages, have greater economic mobility and are healthier than children who grew up in similar non-union households.
After working nearly a decade as an organizer, today Diaz serves as business manager for Local 78 where he oversees the daily affairs and business operations of the local union. As part of his role, he is in daily contact with the public and with employers, becoming the trustee of the welfare of the members of the local union.
"We are the oldest continuously running local union in the state of California," Diaz boasted.
He said, like any job, it is not without challenges.
"A lot of sacrifice goes into going to school, working on your apprenticeship in the cold, the wet or the wind. But, the sacrifices are worth it. I always say, 'You will get out of this industry what you put into it,'" he added.
Currently, a significant topic of conversation for the union is the switch to electric vehicles, which can have a massive impact on the industry. 
The U.S. government plans to end purchases of gas-powered vehicles by 2035 in a move to lower emissions and promote electric cars.  
"Our organization's 131 years old, we've been around for that long, and we plan to be around for a lot longer. During that time, our country has gone through massive changes, and we were there for it. We have to be the voice of reason between policies and the industry. EV is a good example of that," he added. 
Diaz added that the key to the success of the union is the relationships, of course, whether that's with policymakers or contractors. 
"It is absolutely imperative that we have a strong partnership with our contractors because they are the leaders of the industry. We must have a healthy contractor base to help build projects and grow membership. We work together on real problems. We say, let's look at this and find some commonalities and solutions," he said. 
When he is not advocating for the union, Diaz recalls some exciting projects he's been a part of recently, including the SoFi Stadium, an unparalleled sports and entertainment destination built in Inglewood, CA, by the Los Angeles Rams.
Another big project is also the new arena for the Clippers, and there's a huge hospital project coming up, too. 
"These projects will stand the test of time. People will show their kids and grandkids," he said. "For me, being a part of this industry and union builds pride. It builds pride in myself, the industry and our community."