Get to Know CPMCA Contractor Employees: John Turner
Showcasing Career Paths in the Plumbing and Mechanical Contracting Industry
California Plumbing and Mechanical Contractors Association (CPMCA) is the voice of the union mechanical contracting industry in Southern California. 
We believe strongly in the businesses and their employees that make up our industry and we seek to serve their interests—from promoting contracting opportunities to providing career advancement paths. 
If you would like to share your story, reach out to CPMCA at marketing@CPMCA.org and let's work together to strengthen our unions and the industry.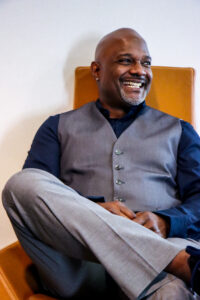 John Turner
QA/QC Manager
Desert Mechanical, Inc.
Local 78
What attracted you to this industry?
Honestly, I didn't think about ever becoming a plumber because I always thought about plumbers just unclogging toilets and fixing leaks. Clearly now, I know there is so much more. Plumbers preserve the health of the nation. At the time of getting accepted into the apprenticeship program, I had applied to 7 different unions and was accepted by 4 of them. I knew that union work paid the most and was the most rewarding in the long run.
Tell me about your career path from employee to management.
At the time I became a plumber, I was working as a laborer for a union company when I was approached by a foreman, Kenny Grant Sr. from Muir-Chase Plumbing. He asked me if I had ever thought about being a plumber. Of course, I said no. He gave me information on where to apply and where to take the test. I took the test and I scored the highest at the time, according to the Pipe Trades staff. I was then hired by Muir-Chase Plumbing where I spent my entire apprenticeship, turning into a journeyman. Then, five months after becoming a journeyman, I left Muir Chase to become what I thought was a foreman position at Desert Mechanical, Inc (DMI). While I didn't become a foreman, I was promoted to QA/QC Manager because of the work I did on a project in Fresno, Cali. I used the knowledge I gained at Muir Chase to recognize how to monitor work and decide if it was being done right or wrong. DMI liked how efficient I was and how I went about my daily tasks.
What would you say to encourage others to join this industry?
This is a once-in-a-lifetime opportunity to provide lifelong security for yourself and the rest of your family. It is a great experience to get on-the-job training while getting an education through the apprenticeship program. It doesn't matter how old or young you are, you can do this. There is nowhere in America that offers education without it coming out of your pocket, and you possibly can make upwards of $100,000 plus after 5 years of school. You have the opportunity to have a pension and 401K at the same time while knowing that you are contributing to the development of the country we call home. It is really rewarding driving by buildings and structures knowing that I contributed to that.
Why are you and your company involved in CPMCA?
Being a member of CPMCA gives us the best chance of being competitive and successful in this business and industry. Without organization and protection, we could be subject to outside factors limiting us from being productive.
What is the value of having a good working relationship with labor partners?
We are stronger together than apart. There is enough money or business to go around for everyone, as I like to say. So if everyone is together and working with each other, we could possibly increase the market share of work out there in the industry.
What about your job brings you satisfaction?
Knowing that I make a difference in the projects that we get and work on makes me feel like I contribute to the development of the nation. Without a person in my position, our company may find itself doing double work because of oversights. It is so necessary to have someone do the double and triple checks on what it takes to get the projects completed. 
Anything else you want to add about your personal experience or career?
I would like to see more resources put into the areas of advertisement to attract more minorities to the trade. Before entering the union, I knew nothing about this career path. There was nothing in school to alert me that a career in the union could be possible. I went to college, but college left me with debt and student loans. If more resources were put into advertising the strength of the industry, we could grow the industry and increase diversity in the workforce.
If you would like to share your story, reach out to CPMCA at marketing@CPMCA.org and let's work together to strengthen our unions and industry.