Contractor Spotlight | North Hollywood High School by Suttles Plumbing & Mechanical Corp.
As the voice of the union mechanical contracting industry in Southern California, we believe in the businesses that make up our industry. That's why we are celebrating the outstanding projects completed by members of CPMCA. 
As part of the CPMCA Contractor Spotlight series, we connected with the team at Suttles Plumbing & Mechanical Corp. 
Suttles is family-owned and operated since 1970, and today serves as a certified women-owned business, owned by Stephanie Aguilar and Bryan Suttles, a CPMCA board member. The union contract plumbing company performs work from Orange County to Santa Barbara in areas of education, hospitals, entertainment, transportation, high rises, commercial, government buildings and private work.
Shy Suttles, secretary and director of human resources at Suttles, started at Suttles Plumbing in 2003 performing payroll. Since, she has been developing and growing the HR department and now oversees human resources while working on culture and engagement within the company.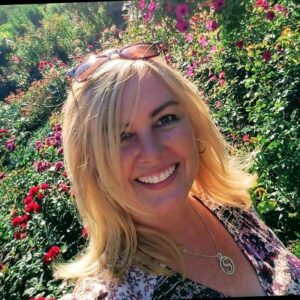 Shy never thought she'd end up in the plumbing industry, and she is glad she made the decision to join Suttles. 
"Construction is different all the time. There's variety and a sense of accomplishment in what we're doing, not just for ourselves, but for the community we're building in. The industry is a lot of fun, and we're bringing in new people all the time. From apprenticeships to other on the job training, there are tons of opportunities in the industry," she said. 
Suttles was hired for the North Hollywood High School project. The goal of the project in Los Angeles Unified School District is to modernize the North Hollywood High School (NHHS) and transform the campus to support 21st-century learning.
Set on a 25-acre campus, the modernization program renovates 100,000 SF of original administration and classroom buildings as well as the library. Over 200,000 SF of new construction provides modern educational space including a new two-story gymnasium, classrooms and an auditorium. 
We recently connected with Suttles Superintendent Brian Childers to learn the intricate details of the North Hollywood Project.
Q&A with Superintendent Brian Childers
What is your role at Suttles?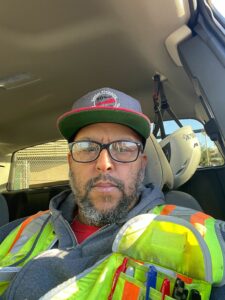 When you are in a supervisory role like a project superintendent, you're a mentor. You give the team your ideas and your philosophy on how you run jobs, and oversee and guide them to where everybody's making money on the jobs. Now I go from job to job and help out with labor and questions with a general contractor if there's a discrepancy in the plans. I like to troubleshoot, put out fires and share my knowledge. I want to try to help the younger foremen deal with all the different personalities out there in the world. Lessons such as not everything being a fight or battle, and not to take things personally on the job site. It's just business. I'm trying to teach these younger guys the dos and don'ts in construction and the business. 
Tell us about the North Hollywood Project.
We are working with Clark Construction as they renovate the entire campus at North Hollywood High School. They are envisioning the entire school layout. They're tearing down old buildings that are basically outdated and not up to standards for learning today.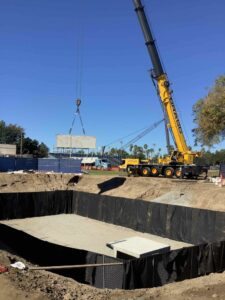 We are supporting the development of the new, modern state-of-the-art learning facilities there, and our job is to do all the site infrastructure. So we're running all new gas lines, fire, water, domestic water storm drain and sewer. 
Why was this an important project for your company?
It's a pretty big project with a pretty large scope of work. In a nutshell, it is a good example of all the work we do. It has a lot of the infrastructure work my team specializes in, including all the underground work like storm drains, firewater, domestic water, storm drain junction structures, curb inlets and manholes. We are proud to do all that in-house, too, and we don't sub anything out. We have a knack for this type of work. We're starting to perfect it. That's what we do.
What challenges has your team faced while working on this project?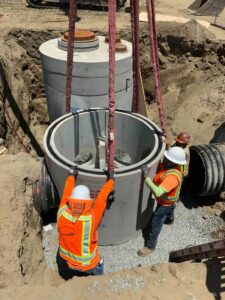 It definitely brings some challenges. We have to leave all the old infrastructure in place and operational while we're trying to work around it. There's a lot of coordination that goes into it, with collaboration between all the trades. We made sure that we have no clashes with other utilities, electrical, communications, HVAC or anything like that. That makes it flow a little bit more smoothly. Then, once that gets going, we have to do the groundbreaking and start installing all the new stuff.                                                                  
What would you share with a person wanting to join the industry?
For a young person that wants to join the industry, the first thing I'll share is not to take anything too personally. Learn and just try to absorb everything around you. Also, don't be afraid to ask questions. I'd rather you ask the question, and we do it right the first time. I think that there are no dumb questions out there. Try to learn as much as you can and take good notes. We have a couple of good apprentices come through and the ones that I see really flourish and springboard ahead, they were the ones that actually asked the questions, took notes, took pictures of assemblies once they were installed. When a person asks questions, you can tell they are eager. 
Do you want your company's project featured in our series? We want to hear from you! Email marketing@cpmca.org to share your story.