Contractor Spotlight | Grand Avenue Project by Pan-Pacific Mechanical
As the voice of the union mechanical contracting industry in Southern California, we believe in the businesses that make up our industry. That's why we are celebrating the outstanding projects completed by members of CPMCA.
As part of the CPMCA Contractor Spotlight series, we connected with the team at Pan-Pacific Mechanical. Pan-Pacific Mechanical is a CPMCA contractor member and Steve Valot, project executive at Pan-Pacific, serves on the CPMCA board.
As a full mechanical design-build subcontractor, Pan-Pacific specializes in hospitals, high-rises, entertainment complexes, schools, universities and more.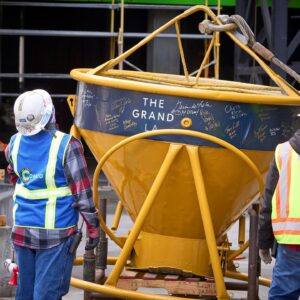 Pan-Pacific was hired for the massive Grand Avenue project in downtown Los Angeles. Located directly across the street from the Walt Disney Concert Hall in LA, Grand Avenue Parcel Q was designed by world-renowned architect Frank Gehry to compliment the surrounding buildings and bring new life to this section of downtown Los Angeles.
The project consists of a 45-story residential tower and a 28-story hotel tower which both sit on top of a seven-story multi-use podium. The podium contains multiple retail/food and beverage spaces, two pools and several other resident amenities including a fitness gymnasium and all of the facilities of a luxury hotel.
Pan-Pacific was the design-build plumbing contractor for all three components of the project and performed Fuel Oil work on the project as well.
We recently connected with Glenn Phillips, senior project manager at Pan-Pacific Mechanical, to learn the intricate details of the Grand Avenue Project.
Q&A with Senior Project Manager Glenn Phillips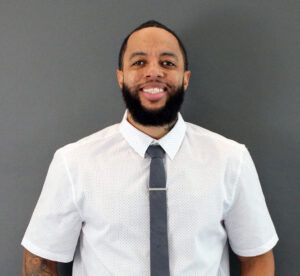 What is your role at Pan-Pacific Mechanical?
As a senior project manager, I serve an essential role in ensuring the successful execution of the project from start to finish. This includes comprehensive oversight and responsibility for managing all aspects of the plumbing scope, such as: project planning, team leadership, cost control and much more.  Overall, the goal is to deliver high-quality projects within budget and on schedule, while fostering client satisfaction and ensuring the smooth coordination of all project-related activities.

Tell us about the Grand Avenue project. 
The Grand Avenue project holds great significance for both Pan-Pacific and myself. This undertaking stands out as an exemplar of complexity, boasting in size and in cost for a total plumbing scope of $34.5 million dollars. When I drive through downtown LA with my family, we are greeted by towering structures that bear witness to my contributions. With a sense of accomplishment, I often find myself pointing at each building saying, "We did that one and that one and that one." This tangible representation of Pan-Pacific Mechanical's achievements adds an extra layer of satisfaction for myself, allowing me to showcase our work beyond the confines of a mere resume.  The Grand Avenue project holds a special place in our portfolio as one of our most substantial endeavors, radiating as a true gem in downtown LA.

Why was this an important project for your company?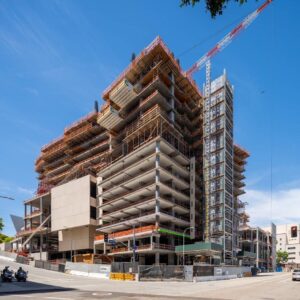 The Grand Avenue project is important to our company in fostering meaningful connections and friendships such as with Related Companies. I have had the privilege to see the fruit of the seeds planted, in both the client and team members, in galvanizing these relationships to go beyond the project itself. It's truly remarkable to see the development of not just the professional bonds, but also the personal connections with each individual. The scope of work is also of importance as it includes all plumbing installations and fuel oil systems, underscoring our expertise and zeal for challenging projects.


What challenges has your team faced while working on this project?
This project presented a lot of intricacies that posed considerable challenges for our team. Notably, the emergence of Covid-19 pandemic brought unprecedented and unforeseen hurdles, affecting both safety and product procurement. With emphasis on safety, our organization had to implement a multitude of new protocols, prioritizing a safe work environment and more importantly their secure return to their respective families. Material procurement was another challenge with international deliveries, wherein we encountered substantial setbacks. Despite unavailable alternatives, we persevered through these obstacles and successfully achieved project completion.
Another challenge came in having two distinct architects for each tower. This brought about adversities in design and vision of the project build. Overall, through adaptability, strategic problem-solving, and endurance our team was able to navigate through these obstacles to achieve desired outcomes.                                                                                                           

What does it mean to you to see a project come to fruition?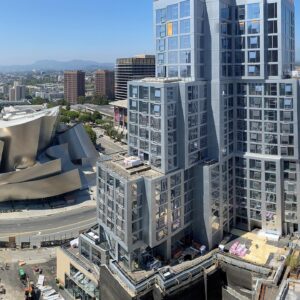 You see something go from concept into a tangible, constructable design that you can visit and be part of for many years to come. Once the project is open to the public, I love to go visit the bars, restaurants, and other establishments, as I'm filled with nostalgia to observe the realization that this was once an idea in someone's head. Being actively involved through the entire project, I share a deeper sentiment in appreciating what we do here and the lives it changes along the way including my own. Furthermore, the ability to point out a building in the Downtown Los Angeles skyline and tell my kids, "Hey, you know I did that building right over there," is priceless for me. For me, this fosters a growing appreciation of the present moment and also their future of what's possible.

Do you want your company's project featured in our series? We want to hear from you! Email marketing@cpmca.org to share your story.